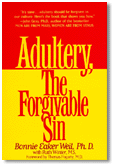 Order a copy online at: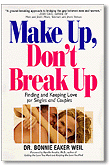 Order a copy online at:



Comments about Make Up, Don't Break Up
"A ground-breaking approach to bridging the gap between men and women."
John Gray, AUTHOR OF
Men are from Mars,
Women are from Venus
"This is among the most helpful, complete, and positive manuals for saving a relationship that I have seen. All singles and couples who read this book cannot help but be inspired to "makeup".
Harville Hendrix, Ph.D.
HOW TO CONFESS AN AFFAIR

To prepare yourself for this talk, keep uppermost in your mind that adultery is a symptom of an existing problem in your relationship, not the problem itself. You have to get to the underlying problem, rather than focusing solely on the affair. This is where most couples go wrong. Don't get stuck in a no-win blame game!

Smart Heart Approach to Confessing an Affair

Your motive for confessing should be a genuine desire to improve your relationship, not ease your own guilt, vent anger, or get back at your partner.
Be sensitive to timing. Consider your mate's energy level, mood, schedule, and events or crises she is already dealing with. If your afraid to tell or keep putting it off, consider meeting with a therapist.
Reassure your partner of your love. Recall special times together with him or her and as a family.
Use the fair fighting techniques discussed in Chapter 10 of Make Up, Don't Break Up.
Keep talking and listening, no matter how long it takes. Be open to your partner's reactions-especially listening to and validating any feelings of abandonment and betrayal without anger or blame.
Tell the truth about whether or not you plan to end the affair. If you want to make your marriage last, you must end it.
Be willing to answer any questions about your lover-but don't give too many details. If you don't answer these questions, your partner will dwell on them, imagine the worst, and become obsessed. The less you tell, the more they dwell.

---

If you would like help dealing with these or any issues, Dr. Bonnie is available for telephone consultations and can be reached via mail, telephone or fax via the information listed below.

---

Dr. Bonnie Eaker-Weil

Adultery Expert

Dr. Bonnie Eaker-Weil, Ph.D. is one of America's best-known relationship experts and author of the books Make Up, Don't Break Up and Adultery, The Forgivable Sin. She has appeared on the Today show, Oprah!, A Current Affair, The View, Sally, Ricki Lake, Montel, Maury Povich, and Extra.

Her work has also been featured in Good Housekeeping, The New York Times, USA Today, Cosmopolitan, Ladies Home Journal, New Woman and Maxim.

Dr. Weil has a thriving practice in New York City, consults by phone all over the world, and is a distinguished lecturer and consultant. For more information regarding telephone relationship therapy sessions, personal appearances, lectures and seminars, she can be reached at:

Dr. Bonnie Eaker Weil

Tel (212) 606-3787
Fax (212) 213-0934